As the biggest manufacturer of forklift trucks in China, HELI, introduced a new line of materials handling products into the market formally at the end of 2015. We are widely recognised for our innovation and our consistent ability to improve warehouse operations.
Around 95% of components used for our warehouse products are designed and manufactured by ourselves, including key parts like motors, power steering, drive units, hydraulic units and electronic modules. Up to now, HELI warehouse products have been exported to many countries and well sold in China, including electric stackers, electric pallet trucks, counter-balance stackers, reach-stackers, electric tow tractors, hand pallet trucks and semi-electric stackers. We provide the most economical and comfortable products for domestic and foreign users.
The main models are as follows: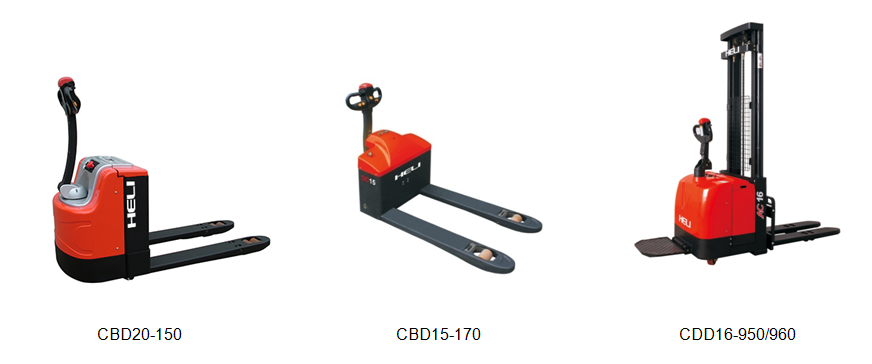 CBD20-150  
Key Advantages:
Electronic power steering system, light and low noise.

AC Driving system, no carbon brush, maintenance free.

CURTIS driving controller.

Electromagnetic, regenerative braking system.

Automatic lifting limit, safety, energy saving.

Curve automatic deceleration devices, more safe.

Stepless speed control system, safe and quiet.

 Controller with Multiple automatic protection.

Emergency reversing device and Emergency brake switch.
CBD15-170
Key Advantages:
The truck has compact structure and is economical.

Permanent magnet drive motor assembled on the truck has simple structure and is easy for maintenance.

Stepless speed regulating is easy for operation and maintenance.

Open type layout of battery is easy for replacement.

Built-in charger is standard configuration.

Maintenance-free battery is safe and non-pollution.

The truck is compact and suitable for narrow space operation.

Special design for fork in and out of double – faced pallet.

Lifting automatic limit is safe and energy saving.

Emergency reversing device and emergency brake switch are standard configuration.

The truck has low noise and small energy consumption and only 2kw/h energy is consumed daily.
CDD16-950/960  
Key Advantages:
AC driving system, no carbon brush, maintenance free.

Electronic power steering system, light and low noise.

Drive unit floating bodies with patent design.

Two-way magnetic valve, three drop speed mode.

Vehicle decelerates automatically at higher position.

High position automatic reduction device.
We used our R&D resources for production of the main components, independently developed the core components and core technology includes EPS, AC driving System, Hydraulic System, Charger, handles etc. We guarantee long-term & effective parts supply and timely service to all customers.